GoodElectricShaver is reader-supported. When you buy through links on our site, we may earn an affiliate commission. Learn more
Last Updated on December 8, 2021 by Danish M
Braun is a well-known electric shaver brand and they are famous for high quality and best performance. Braun is a German brand and they never compromise on their product's quality.
If we compare all the top brands of electric razors, Braun manufactures the high-performance shavers of them all. Braun shavers give you the most comfortable shaving experience and a closer shave.

Braun Shavers For Men
There is no doubt that people have been choosing Braun electric shavers for years because of their reliability and good quality.
You may go for Braun shaver without any worries related to the performance or durability since the latest Braun Series 7 is tested to be durable enough to last for around 7 years. You will get a closer shave and comfortable shaving experience because it does not require too many strokes to get the job done.
If you are confused and want great shaving results then you may go for Braun shaver because it is the best value for money.
The Best Braun Electric Shavers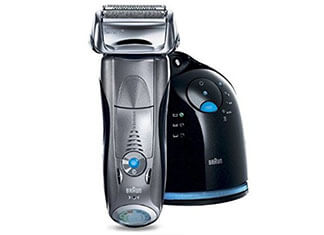 Braun Series 7 7790cc (Read Full Review) – This is the best of Braun electric shavers. This shaver has remained to be the favorite of users for quite a few years. If you are the one who is looking for both closeness and a comfortable shave then this is the right shaver for you.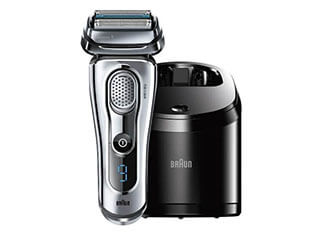 Braun Series 9 (Read Full Review) is the advanced version of Series 7 having similar features like Sonic Technology. The major advance feature that this shaver has over its prior series is the forty thousand cross-cutting ability per minute that gives you a better closer shave.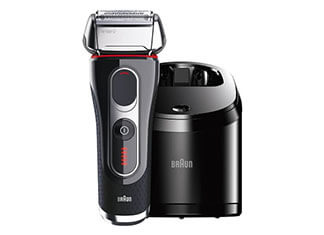 Braun Series 5 5090cc (Read Full Review) – If you are looking for a shaver that cuts longer facial hair or beard comfortably and you have sensitive facial skin as well then this is a top Braun shaver series. It gives you an excellent shaving experience with lesser irritation.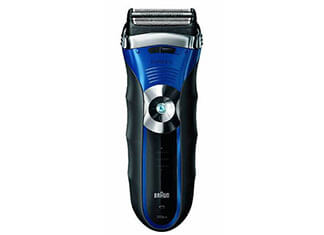 Braun 3Series 380S-4 (Read Full Review) – This shaver comes with no extra features and it is perfect for the price since it has all the great features of an expensive shaver like you may have both wet and dry shave with this shaver. For people who want great shaver at an affordable price range with great performance then this is perfect for you.
Braun Cooltec Shaver (Read Full Review) – This shaver is made while keeping those men in mind who have sensitive skin and they have a really major issue in selecting the right shaver for their sensitive skin. It has both wet and dry features and it comes with a cooling system that reduces the irritation and provides a gentle and closer shave.
Selecting the top men's electric shaver varies from person to person and depends on different factors that you need to keep into consideration while you are choosing the right electric shaver for yourself.
Normally the key factors that we seek when choosing a shaver are comfortable shaving experience, closer shave, Shaver's durability & quality, and last but not least the value for money.
Braun shavers are divided into different ranges like series 1, 5, 7, and 9. In order to provide a better shaving experience, Braun has introduced WaterFlex and Cooltec to give you a very different kind of shaving experience.
Watch The Video
The Braun Series 3 shaver has 2 cutting foil blades and in between these foils, you will find a middle trimmer that will help you to cut longer hair.
This combination of foil blade and trimmer provides you a comfortable and smooth shaving experience. This shaver also has a long hair trimmer at the back to trim the beard.
The Braun Series 3 shaver is fully waterproof and you can easily wash it. It's a very good foil shaver at a very affordable price.
The Braun Series 5 has more advanced and better features. This shaver has the 3 cutting features just like series 3 and it also has a flexible shaving head. It also has a Flex motion system so that it can easily be able to move on your face smoothly.
The motor of Braun Series 5 is better and stronger as compared to that of Series 3. The lithium-ion battery is also quite powerful than the one in the Braun series 3 shaver.
The series 7 is more powerful and packed with further smart features like Sonic Technology. It has a powerful linear motor that gives you ten thousand micro-vibrations per minute. This shaver is smart enough to adapt to the length of the beard and it can cut more hair in just a single pass.
Bran Series 9 is an even better shaver since it has 2 center trimmers and it also has the sonic system. It has 40,000 crosscutting ability per minute which gives you a closer and clean shave.  The design of this shaver is also very elegant and the feel is also really good.
The WaterFlex and Cooltec is also a new and advanced addition to the Braun shavers. WaterFlex is specially designed to be used with shaving gel or foam and you may also use the electric shaver while taking a shower. It has a strong grip that is made up of rubber along with a waterproof body.
It also has a pivoting head to make it move smoothly on the face. This helps you get a nice shaving experience in the shower.
Braun is known to manufacture the most advanced shavers for men and Braun Cooltec is a specially designed shaver with an active cooling system. In order to use this cooling system you just need to press a button on the shaver. With this shaver, there is no need to use any lotion or shaving cream and it's proven to give you a close and comfortable shave without cuts or irritation.
The maintenance of electric shaver is also quite important. when you decide to buy an electric shaver you must always consider maintaining and cleaning your shaver. All the above shavers that we have discussed are waterproof and can be easily cleaned. However, you must try the Braun cleaning unit that an alcohol-based solution to clean the shaver automatically.
It does not just clean the shaver bet it also removes the harmful germs from your shaver as well. This unit also charges the shaver.
All Braun shavers come in foil style and if you are kind of an individual with sensitive facial skin then a foil shaver is best for you.