GoodElectricShaver is reader-supported. When you buy through links on our site, we may earn an affiliate commission. Learn more
Last Updated on July 16, 2022 by Danish M
Braun is a famous German brand, its Pulsonic Shaver System is a well-known option for customers. The 790cc is comprised of a decent metallic gray shade, and it's a foil-style electric razor, having a black charging and cleaning station. The Braun Series 7-790cc Pulsonic Shaver System has been referred to as the "world's leading electric shaving brand" by a top market analysis firm.
You may also like to check out our Buying guide for top shavers – List of Best Electric Razors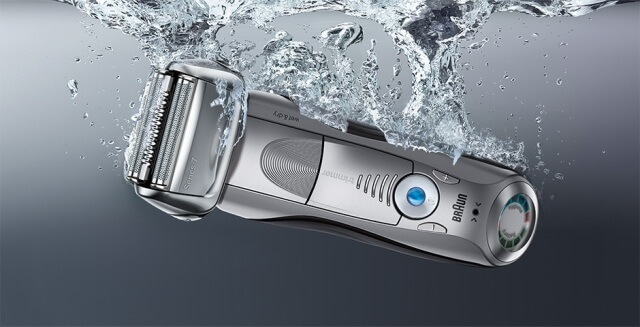 The Pulsonic shaver's price is a bit extra as compared to a regular razor, however, you're paying for a great design and well-made cordless electric shaver that ought to last longer with the correct maintenance. The Braun Pulsonic is from its premium shaving line. It provides men the best grooming experience.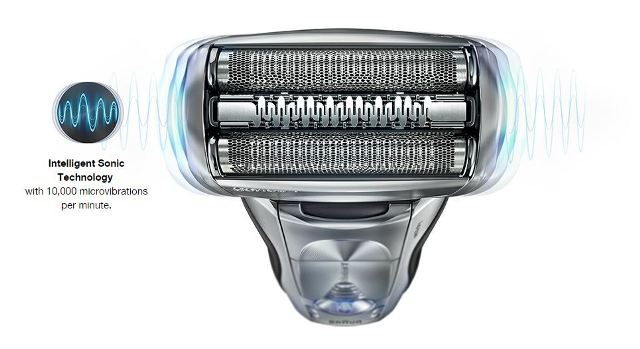 The 790cc is one of the best in the Pulsonic line, having extra options than the 390cc, or the 590cc. This Braun shaver differs from the 720s line because it has a technologically advanced system. The Braun Pulsonic foil shaver is made to operates with sideways movement over the facial skin, rather than circular motion movement that you experience in rotary razors.
Appearance & Looks of Braun Series 7 790CC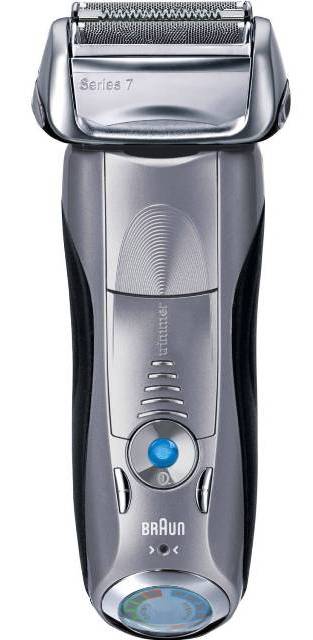 You'll be delighted to know how properly Braun shaver fits in your palms. The grip feels smooth and gives you a good feel.
On either side of the razor are two long sections of black rubber that allow you to grip your shaver extra securely.
This grip additionally allows you to better hold the razor properly, even for those who shave with water, shaving soap, gel, or shaving creams.
Keeping in mind that Braun series 7 790CC does not offer a wet shaving feature. However, Braun offers Wet and Dry feature with the latest model of Series 7 799CC which is a bit expensive.
The foil-style razor enables the shaver's head to pivot and flexes apart from the entire body of the electric shaver that moves smoothly on the face and reduces the chance of getting razor burn.
On the lower side of the razor is a round button that has got a blue circle within the center. There are 2 power ranges: + and – so that you could select the speed of your shaver.
One thing you might not have seen on any other shaver is that right below at the bottom of the razor is a status indicator for cleaning and charging/battery. You may just need to flip your shaver over to see these ranges on its flat base. It is a vibrant indicator, at a glimpse you'll see how much battery is left in your electric razor. It will even indicate you that it's time to clean your electric shaver.
More Features of Braun Series 7-790cc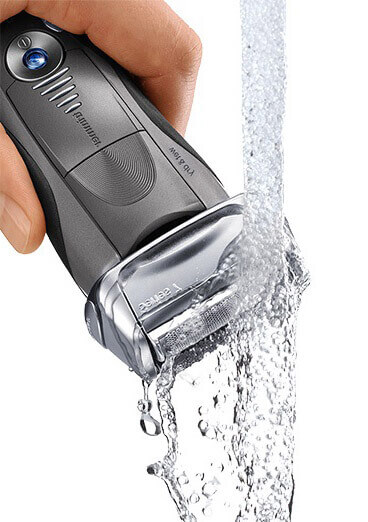 Braun Series 7 is fully waterproof and completely washable. It is possible to wash the shaver directly in your washbasin under running water while using it; however, you may also use the cleaning unit in order to clean it easily.
This electric razor has a completely sealed body, so you'll be able to take this shaver with you while you are bathing. The moisture won't be able to get inside the internal machinery.
Should you be looking for one of the excellent shaving experience, Braun advises that you simply shave 1st thing when you wake up early in the morning, prior to washing your face or taking a bath.
The Braun Series 7 lets you select 3 different settings, so you'll be able to customize the razor as per the type of your facial hair, or if the growth length of your beard is different. The three personalized modes range from delicate to regular as well as to the intensive mode. The Pulsonic foil shaver is made with a linear motor.
The foil shaving head on the 7-790cc shaver includes a totally versatile shaving technology that moves gently adapting with your pores and skin. This razor has 2 Opti-foils within the shaver each on both sides of the ActiveLift trimmer, therefore it has 3 cutting foils in a row.
The Braun Opti-foil guarantees the closest shave as compared to its other line of razors from Braun, or different brands. The Opti-foil is made with a unique design that is build to get rid of extra hair right away without delay and cut hair real close to the facial skin.
The top part is the head of the shaver that is made in a way to adjust easily with your contour of the face so that it's going to move easily and shave over the jawline and around the neck. The 2 Opti-foils the ones that will give it a final touch that will provide a smooth and excellent shave.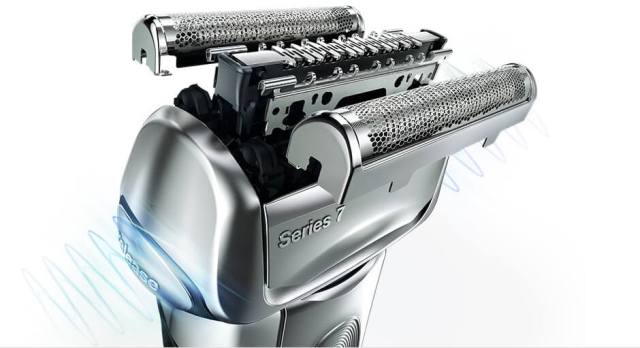 The Pulsonic is made with a triple motion cutting system. The foil is made with 3 different components to cut even the shortest facial hair as well as the longest hair. What one is not able to cut, the other one will do it, giving your face a smooth and clean look.
Braun 7-790cc is built with an intelligent sonic system. While you are shaving, it's going to automatically improve its power over the thick part of the beard.
The Pulsonic is made to have 10,000 micro-vibrations per minute that can seize hair with every stroke of the unit. Small, or ingrown hairs are simply captured and shaved down by a built-in trimmer in the middle.
This system is known as Activelift, it is the patented center trimmer that grasps flat facial hair. This electric shaver delivers a complete shaving experience, reducing the probability that the electric razor will have to be repeatedly moved over the same place of facial skin over and over. These micro-vibrations are a bit noisy; however, the shaver isn't too loud.
Braun Series 7-790cc Self Cleaning System
The feature that makes this Pulsonic shaver distinctive is the cleaning, charging and maintenance unit. The method is quite easy. After you complete the shave in the morning, you just need to place your Braun shaver in the unit. Just by pressing a button, the cleaning process will start, it gives lubrication to maintain it in excellent form for the next use, as well as dry it. It will also charge the razor for the next use.

Handy Pop-up Trimmer
Further options on the Braun 790cc comprises of a lengthy hair trimmer to trim mustache, sideburns, and beard extra precisely. To use this trimmer, there's written "Trimmer" at the front side of the shaver. Press it on and the pop-up trimmer will come up. just pop it back inside after you complete the trimming.
Watch Video
 Is Braun Series 7 a good Product For its Price?
The Braun 7–790cc is a bit costly as compared to the regular razor. However, it is comprised of the cleaning and charging station, in that way you're truly getting extra for your cash. In the package, you'll be getting 1 Braun Series 7 – 790cc shaver, one cleaning and charging system, a brush for cleaning, 1 Smart-Plug, 1 cleaning cartridge in order for you to start with, and a protective pouch for traveling.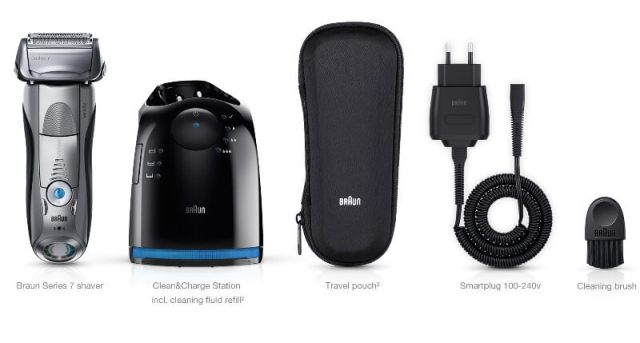 Extra accessories are easily available to replace. Substitute foil and cutters are also available, and also the 4 pack refills. old cartridges must be replaced every 2 or 3 months, or when the unit notifies you that it must be changed. Cutter components must be changed in around eighteen months, to ensure the optimum use of your Braun electric shaver.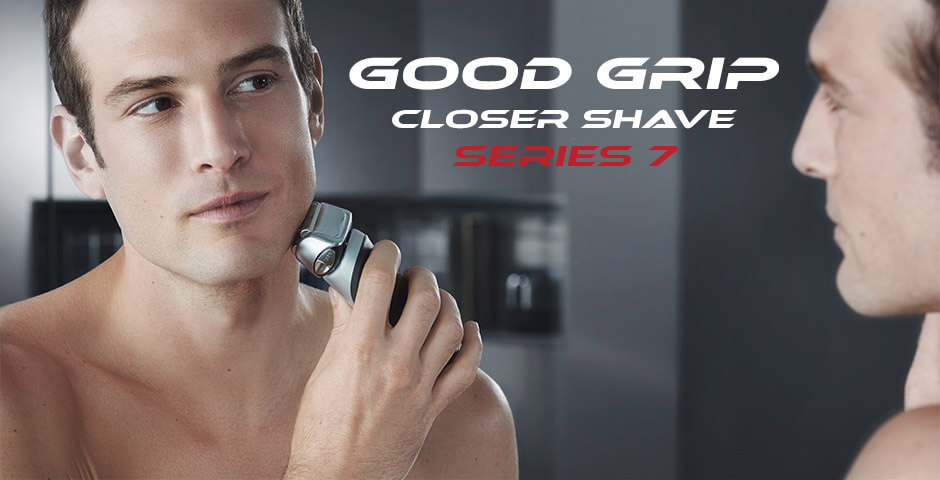 Why you must Go for Braun Series 7- 790cc Electric Shaver
The Braun 7-790cc is excellent for individuals who take shaving seriously. These are those individuals who want to look great at work and don't like to struggle with a regular low-performing shaver. The charging and cleaning unit makes the job easier. There is no need to wash it in the washbasin and no need to scrub it with the little brush, You'll certainly be happy with an excellent performance of Braun Series 7- 790cc Pulsonic Shaver System.