GoodElectricShaver is reader-supported. When you buy through links on our site, we may earn an affiliate commission. Learn more
Last Updated on July 19, 2022 by Danish M
If you are looking for the best and closer shave, the Panasonic Arc5 ES-LV81-K is Panasonic's top shaver which guarantees to give you a clean and smooth shaving experience. This razor is a Japanese-made shaving device.
It is a conventional foil shaver, and it has a clean black elegant finish, LED display, and comes with a cleaning and charging unit. The shaving head comprises 5 foil blades in order to make sure that all hair size on your face is clearly shaved out.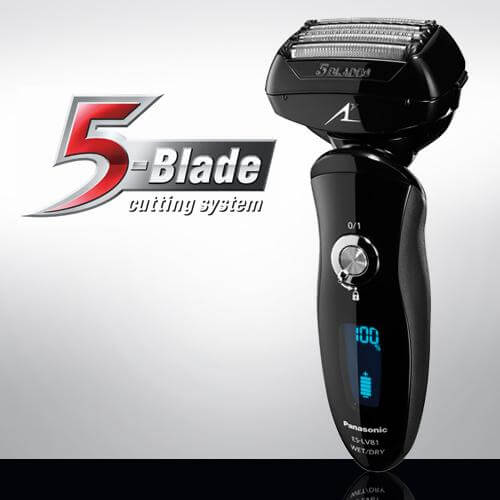 I'm sure that you would also enjoy our list of top shavers – Best electric Razors List.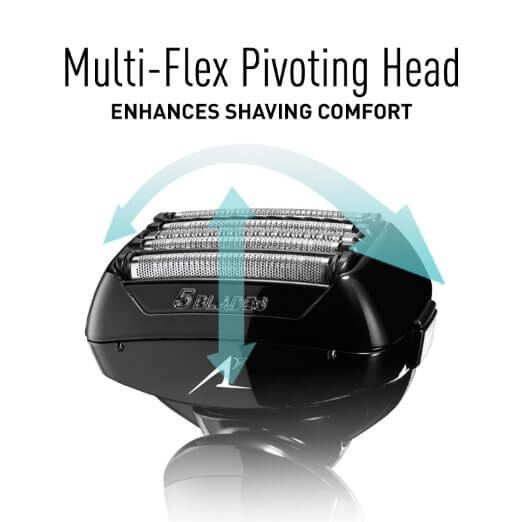 Panasonic has spent a lot of time and effort in the development of this amazing shaving technology. The head of Panasonic Arc5 ES-LV81-K Razor comprises of 5 ultra-thin blades. They're at an angle of thirty degrees to offer a great shaving experience.
This razor has a linear motor inside that operates at 14,000 CPM. It has a flexible pivoting head, the blades and foils of this razor are made up of stainless steel.
The motor is designed to prevent skin irritation caused by pulling of hair that may occur with low standard shavers. Should you have ingrown hair, this cordless razor's multi-foil technology is ideal to get rid of them. As you continue on the use of Panasonic ES-LV81-K Arc5, ingrown hair will permanently go away.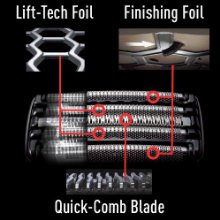 There are 3 different foils attached to this device. One of them is the Lift-Tech foil with reverse sharp edges for cutting hair that grows flat on the face.
The finishing foil will get rid of hairs that are missed by the other blades, and make sure that your face stays clean and smooth. The third type of foil is ideal to cut closely the longer facial hair.
The Panasonic ES-LV81-K Arc5 additionally comprises of a pop-up trimmer for precisely cutting beard, mustache or sideburns. The Panasonic Arc5 ES-LV81-K Shaver comes with an LED display that is located on the handle of the Panasonic cordless razor, so you may know the status of your shaver anytime you want to.
You'll be able to lock up your electric razor if you want to carry it with your luggage when you are traveling, and no need to worry about accidentally turning it on.
There is a cleaning system in Panasonic shavers that can maintain your electric razor, clean, and keep it in good condition. You need to put your electric razor in the cleaning unit and with a press of a button, it will clean and charge your shaver automatically.
For a quick clean, there is a sonic vibration mode for faster cleaning. The cleaning cartridges are used in this process by the cleaning unit that is free from alcohol to reduce irritation.
This Panasonic shaver can be utilized both dry or wet. You may also use this shaver wet since it is a hundred percent waterproof and can be used with shaving gel, cream, or shaving soap. You can also take it with you in the shower. Panasonic Arc5 Shaver performs well when used dry and won't cause any irritation by pulling your facial hair and gives you an excellent shave.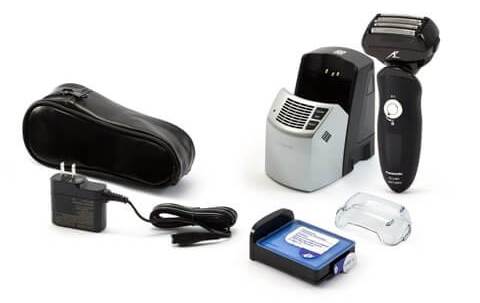 In the box, you will get 1 Panasonic ES-LV81-K Arc5-K electric razor, a protective pouch for traveling, and a charging adapter, a power cord, and a cover for the blade.
It is advised by Panasonic to change the internal blade and the foil once every 12 months for better shaving results.
Panasonic ES-LV81-K Arc5-K is a complete shaving kit for you and the charging and cleaning unit will take care of the cleaning and maintenance of your shaver that is quite handy and convenient.