GoodElectricShaver is reader-supported. When you buy through links on our site, we may earn an affiliate commission. Learn more
Last Updated on October 10, 2022 by Danish M
Philips is a famous producer for many home products, and the Philips Norelco Shaver 6600 works great. The Philips Norelco line is out there at a wide range of different prices. this shaver is their reasonably priced cordless electric razor model.
This rotary shaver is available in darkish blue and black shades with a red finish. It consists of 3 shaving heads, to give you a fast shaving experience. This Philips shaver has a good grip so that you will not drop it on the most inopportune occasions. The Philips Norelco 6600 is slim and stylish and it's not bulky to carry in your palms.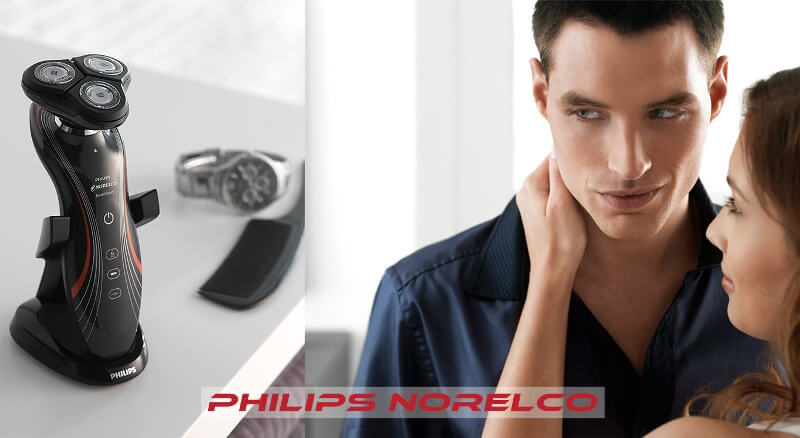 Philips Sensotouch 2d Features
The Philips Norelco 6600 shaves in 2-dimensional contouring. The heads are made up of clean smooth rounded edges and flat surface, so that you get a better shaving experience, with no irritating pull or tug of hair on the face.
The Philips 2D Gyroflex and Skinglide system allow the electric razor to get into difficult to reach areas on your face. The shaving heads pivot and flexibly moves inward to simply fit your facial curves. This Philips shaver works with less irritation, without tugging or pulling the hair.
The SkinGlide technology consists of a surface that is flat with rounded edges that provide an excellent shaving experience. Most of the time electric shavers won't do the job properly on the neck; however, the SensoTouch technology works well in this area.
You may also use your Philips Norelco SensoTouch 2d both wet or dry. It gives a perfect shaving experience, even with a dry shave. However, you may have a different experience while shaving with water or shaving gel. you can use Philips Norelco Shaver 6600 while you are bathing. The Aquatec seal will help prevent water to get inside.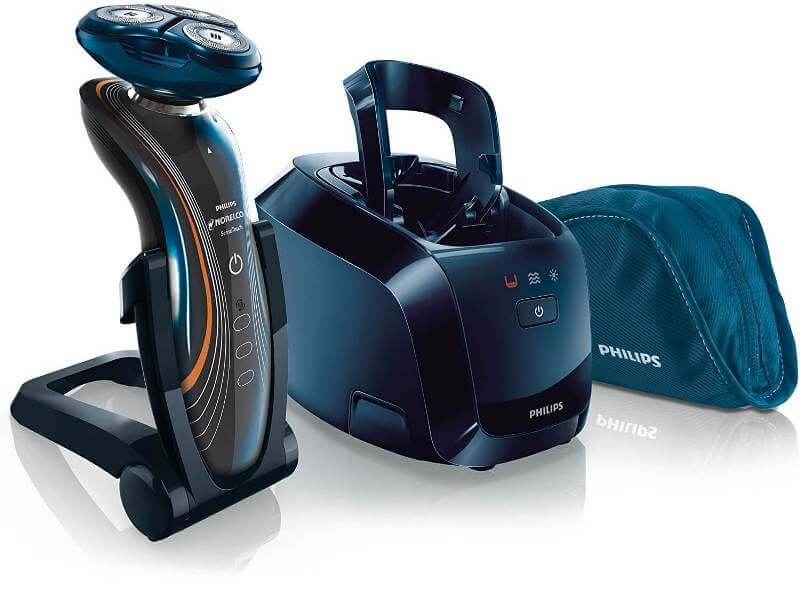 The best electric shavers that are available in the market right now give you the ease of cordless shaving. You may just charge it up for an hour and it will provide you with 50 minutes of shaving time. There's a 2 level indicator that you can find on the handle that lets you know the level of battery charge for your electric shaver.
At a glance, you will be able to know how much battery charge is left and whether it's time to recharge it again. There are 2 methods to charge your Philips Norelco 6600: 1 is with the charging unit, 2nd is with the Jet Cleaning system.
With the ability to charge up your cordless electric razor to be able to last for a few weeks can be significantly useful when you are traveling, and don't like to carry the Jet Cleaning system with you.
There are a lot of traveling-friendly benefits with the Philips Norelco Shaver 6600. There's a protecting cap so that the shaver's heads don't get damaged. A travel lock will stop your Philips Norelco 6600 Shaver to turn on by chance while you're traveling.
You may place your electric razor inside the protective pouch to prevent it from damages. SensoTouch additionally has a global voltage function, so you are able to use this shaver anywhere around the world. It's going to change itself from 100 volts to 240 volts automatically while you are traveling anywhere around the world.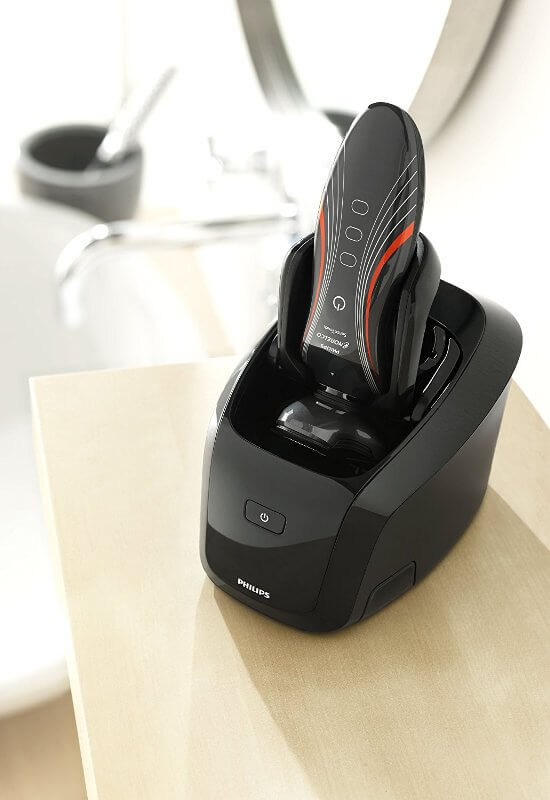 Philips Norelco Shaver 6600 Cleaning System
The Jet Cleaning technology is a multi-purpose technology that enables your Philips Norelco 6600 Shaver to last longer. Another problem that occurs with many electric razors is that they clog up with tiny hairs with the passage of time and causing it to damage the motor.
Philips has developed the Jet Cleaning system to get rid of hairs from the electric shaver as well as lubricate and dry it.
Maintaining your electric razor in good condition will stop the problem of the motor to die out, so your electric shaver is certain to last longer for years.
The Jet Cleaning technology will clean, lubricate, and recharge the electric razor, and you don't need to do all these steps manually. You just need to place the shaver in the Jet Cleaning system and press the button to start the process. It will start by washing the electric shaver, and then lubricate it, then dries it, then finally recharge the electric razor. Of course, you can also just charge your electric shaver with the charging unit.
If you like to have an electric razor of Philips brand and you don't wish to spend lots of cash on their top of the line shavers, then Philips Norelco 1160X/42 SensoTouch 2D could be a reasonably priced alternative.
The shaving kit consists of one Philips Sensotouch 2d electric shaver, a charging stand, Jet Cleaning system and charging unit, a handy protective traveling pouch, a protecting lid for the heads, 1 bottle of Jet Cleaning solution, the power cable, and a cleansing brush.
You don't need to feel bad for not having the other expensive electric razor of Philips high-end models for its Norelco line because the Philips Sensotouch 2d is almost packed with all good options. Chances are high that you simply would not be utilizing all of the options on the other expensive models anyway.
This model is a little noisier as compare to other Norelcos lines, so you may pay extra to get the quieter one. The Philips Norelco Shaver 6600 will deliver an excellent shaving experience, giving you a clean and smooth shave for your business meetings, dates, and other social activities.