GoodElectricShaver is reader-supported. When you buy through links on our site, we may earn an affiliate commission. Learn more
Last Updated on September 9, 2022 by Danish M
Redness and irritation after shaving are quite annoying. You must have tried so many things to get rid of this issue but it won't work. Here we will discuss tips and tricks on how to prevent razor burn on the face.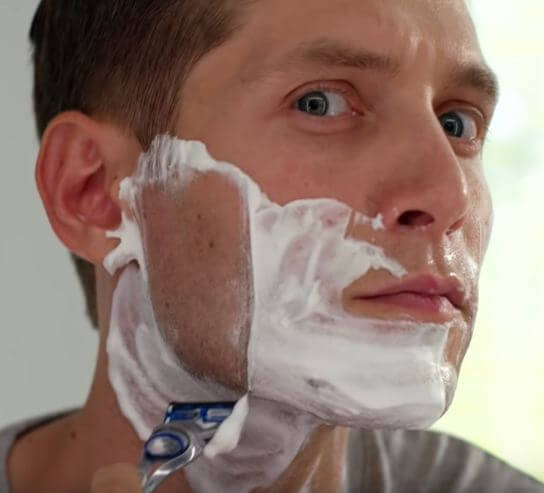 1. Shave at Least 2 Hours Prior You Leave For Work or With Friends
You need to give your skin some time to reduce the effect of shaving. This way the irritation or redness on the skin will be lowered down.
2. Trim The Long Hairs Before You Start Shaving
Shaving a long beard sometimes causes tugs and pulls and requires multiple strokes which can be the reason for redness and sores. The best way to avoid this issue is by trimming those long facial hairs, especially below the chin area and around the neck.
3. Wash Your Face and Wait Before You Shave
If you often experience irritation and burn after you shave, then you must dry your facial skin before you shave. First, you must wash your face, let it dry for five minutes, and then start with the shaving.
4. Avoid using Manual Razor to Prevent Razor Burn
Manual razors can cause more damage to the skin because the blades move directly on the skin that leads to skin rash and irritation.
If your skin is prone to irritation when you shave, you must always choose a good electric shaver since the blades of the electric razors are covered and do not move directly on the skin which reduces the chances of rashes and irritation.
If you have sensitive skin, then you must be very careful when you select an electric shaver and choose a foil shaver instead of a rotary shaver.
Here we have created a full guide on top electric razors to help you choose the right one.
5. Choosing The Right Shaving Cream or Gel is Important
If you're the one who prefers wet shaving then you must select the right shaving cream or gel that is suitable for your skin type. The best way to find out the right type of shaving cream or gel is to try out which one is best for your skin type.
6. Use Circular Motions While You Shave
If you're using a rotary shaver, It is best to shave with it in a circular motion rather than using strokes. This way you can easily cut hairs growing in any direction on your face and requires fewer passes as well.
7. No Need to Put Extra Pressure on The Shaver
Use light pressure while you shave and always avoid too much pressure because it will create friction that causes redness and irritation on the skin.
8. Avoiding a Very Close Shave Also Works
If you often experience irritation after you finish shaving, then you must avoid a very close shave. No need to press the shaver too hard on your face to avoid skin damage.
9. Identify Your Skin Problem
We all are different and so are facial skin, some of us will have minor irritation from shaving but some might experience intense rashes or even ingrown hairs. If you have any problems related to ingrown hairs, you may check out our guide on How to get rid of ingrown hairs.
10. Using Different Angles For Hard to Shave Areas on The Face
If you are not able to easily shave those stubborn hairs on certain parts of your face, then you may use some pressure to shave them off. You may also try to shave them off from different angles. You can use your hand to pull the skin lightly so that the facial hair may lift up so that you can easily shave those stubborn facial hairs.
11. Use an Alcohol-free Aftershave Product
Once you're done with the shaving, soothe your skin with an alcohol-free aftershave balm. Most of the aftershave that you see comes with alcohol which prevents your skin from infection but it also dries out your skin which results in tightness and irritation.
12. Clean Your Shaver Each Time You're Done Shaving
Hygiene is very important and if you want to prevent your skin from irritation, you must clean the blades frequently during the shave and also clean your shaver after you finish shaving to get the best shaving experience every time you use it.
The cleaning system is available with almost all the latest electric shavers which makes it easy for you to clean your shaver after each use.
13. Avoid Shaving Regularly
If you really want the skin irritation and razor burn to stay away, then you must avoid shaving on a daily basis and shave only thrice a week. This will allow your skin to recover.