GoodElectricShaver is reader-supported. When you buy through links on our site, we may earn an affiliate commission. Learn more
Last Updated on September 23, 2022 by Danish M
Braun is a renowned manufacturer of cordless electric shavers. They're an excellent choice when you're searching for a shaver that is not "Made in China", as they are still designing and producing their merchandise in Germany.
The Braun CoolTec Shaver has some distinctive options that make it unique as compared to other shavers in its line.
The electric razor is available in a medium gray body with a blue band at the top. On the upper side of the shaver, it has an anti-slip grip so that you will not by chance drop your razor down. This foil shaver is designed to use particularly on your face or neck areas.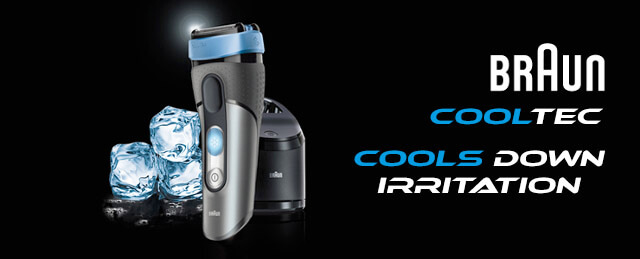 Braun CoolTec Shaver Review For Buyers
You can use Braun CoolTec for both dry or wet shavings. You may use water to shave with this electric razor. It's not really advised that you use shaving creams or gels, foams, or lotions, as they will intervene with the CoolTec functionality, and the fluid in the cleaning cartridges and will also not be compatible with it.
For those who want to take their Braun CoolTec shaver in the bath or shower can do that without any worries as it's safe and allowed. The Braun shaver is completely sealed, so water can't get into the device. You may wash it in the tap water to get the hair out of it or clean it using the cleaning system.
If you need more in-depth information on other top shavers, then you may check out our buyer's guide – Men's Best Electric Razors 
Among the finest options on the Braun CoolTec shaver is the cooling technology. In case your facial skin will ever feel hot when you're shaving, you will love this nice function.
As you shave, the cordless Braun shaver will keep your facial skin cool. You'll by no means have to be worried about a red face after using this electric razor. You'll definitely admire the CoolTec shaving system in the summer season.
Not only you will have a cool shaving experience, the CoolTec system additionally prevents irritation due to shaving. It actually works by an inner cooling bar made of aluminum. The cooling bar will reduce the heat that comes while you are shaving.
It will reduce the burning effect as well as redness. CoolTec is an extra function that makes your facial skin smooth, gentle, and soft after shaving. You can turn on the cool shave option by a press of a button. In fact, when you don't need to use it, you may just turn it off.
The Braun CoolTec shaving system isn't a rotary-style shaver, it consists of a conventional foil head along with 2 moving cutting components. It's made with a 3 level cutting system, to make sure that all hair is properly cut from the face.
The shaving components smoothly move on the facial skin, moving along with each contour of your face. Hair growth is not carried out in one direction. That's why the Senso-Blade system is made to cut the hair, regardless of whichever direction your hair is growing from. This Braun electric razor offers a clean and smooth shaving experience.
The LED indicates the status of your electric shaver. It will indicate you about the charging status, or if the battery is low or out, status for hygiene, or if it requires cleaning.
It will take around 1 hour to charge up the battery, and can go for about 45 minutes, or for 1.5 weeks. The cooling function can be utilized for as much as 15 minutes on 1 charge.
The Braun Cooltec shaver additionally comes with a trimmer in order to cut long beards, sideburns, as well as mustaches.
Braun Cooltec Review: Cleaning System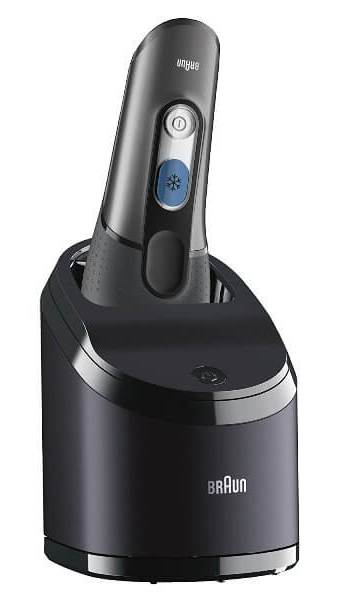 Cleaning & Renew technology makes the maintenance process simple and easy. Set up the cleaning cartridge. Place your Braun shaver inside the unit and turn it on. The system will start by itself and hygienically clean your electric razor.
It will then lubricate your electric shaver and make sure all the moving components work properly. After that is finished it will recharge itself up. You will be required to make sure that you have the supply of cleaning cartridges, although the Braun can still be cleaned simply under the tap water with the help of a cleaning brush.
The cartridge packs include alcohol that works with the Braun CoolTec, which is able to hygienically get rid of bacteria and dirt out of your electric shaver. It is available in a nice lemon scent. For those who use the cleaning system at least 2 times per week, a new cleaning cartridge must be replaced every 3 months.
Braun recommends a couple of simple steps to have the most effective shaving experience. Shave very first thing early in the morning, prior to washing your face. Grip the electric shaver at around the right angle against your facial skin. Stretch your facial skin, when you shave at the primary direction of your facial hair growth.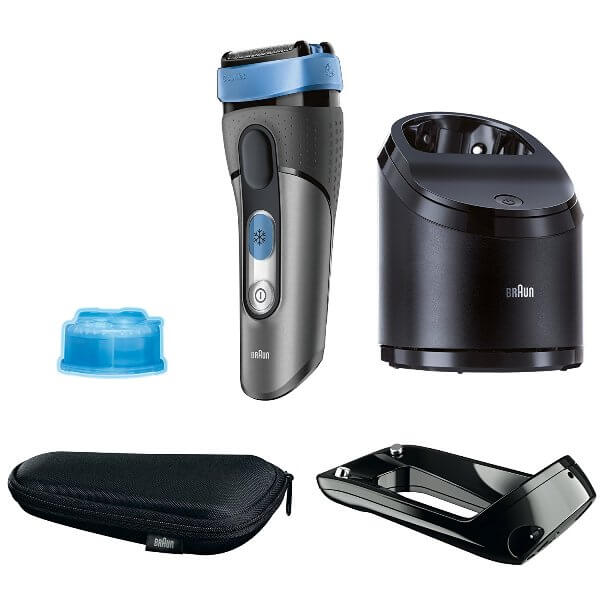 In your Braun Shaver kit, You will get 1 Braun CoolTec electric razor, a cleaning & charging unit, 1 cleaning cartridge to start with, a charging stand, a protective travel pouch to carry your electric shaver anywhere you want to, 1 smart plug, and a brush for cleaning.
The Braun CoolTec could also be a bit pricey as compared to other cordless electric shavers. However, its distinctive options make its value worth it. Plus, Braun is one of the top brands for manufacturing home products, along with electric razors.