GoodElectricShaver is reader-supported. When you buy through links on our site, we may earn an affiliate commission. Learn more
Last Updated on July 17, 2022 by Danish M
The Philips Norelco 2100 6948XL/41 is an inexpensive shaver for men preferring an electric razor but do not wish to spend too much cash. This electric razor is usually black and has a gray band across the base of the shaver's head. It has a simple design, with no extra settings.
This electric razor has a round and curvy shape that makes it simple and easy to hold. This electric razor was a previous model; however, it was renamed as Philips Norelco 6948XL/41 Shaver 2100 for the year 2015. This razor is made only to be used dry and can't be used wet.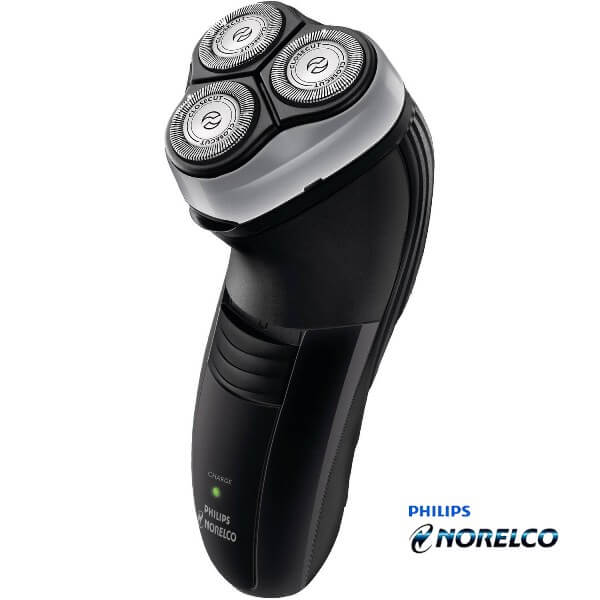 Should you want a little bit of extra shaving assistance, you may utilize Williams Lectric Shave to prepare the area of your facial skin. However, do not use this shaver in the shower, and definitely don't use it with any form of shaving creams, gels or shaving foams, etc.
You may use aftershave lotion or aftershave when you may have completed shaving. You might discover that you simply don't have any irritation with this sort of electric shaver.
I hope that you would also love to check out our top list of shavers – Top Electric Razors List.

The Philips Norelco 2100 Rotary Shaver can be a terrific present for a younger man or an individual who enjoys traveling. Although this electric razor will probably be good for anybody, and for daily usage too. However, you will not hesitate to the reasonably priced value.
Individuals who do a lot of traveling might want to buy a spare one to keep in their bag for traveling reasons so that they won't need to be worried about packing up at early notice.
For individuals who do traveling a lot, it would work on 100 to 240 voltages. You may simply charge up the electric shaver in advance and leave the power cable at your house, however, with just a thirty-five minutes shaving time, you may want to carry the charger cable and adapter plug along with you while you are traveling.
This Philips Shaver has "Close Cutting" heads and it claims to cut twenty-five percent extra hair in a single go as compared to other electric razors brands.
The blades that are made inside this electric razor are extraordinarily sharp, and they are additionally self-sharpening, the sharper the blades are the much less probability that they would pull the facial hair and cause razor burn.
Self-sharpening blades imply that they are durable and won't wear out. The self-sharpening blades additionally increase the time period before you require to buy new blades for your Philips Norelco shaver 2100.
Philips has built "Flex and Float" technology that allows every blade to independently comply with the contours of your face. It captures extra hair in a single go; therefore, there is no need for extra strokes of backward and forward are eradicated.
This additionally has the further advantage of minimizing any form of skin irritation, because fewer times the facial skin is rubbed, the lesser probability that it is going to be sore or become red after you shave.
Although this can be a low priced model, the Philips Norelco 2100 Shaver properly flexes and floats throughout the face that gives an ideal shaving experience. This cordless electric razor properly complies with the contour of your face, and it will catch extra hairs all at once. You will get an efficient shave, despite the fact that this is an inexpensive razor.
Philips has made it affordable by keeping a simple casing, without any fancy options. However, they definitely have not compromised on the system that is installed inside the Philips Norelco 6948xl/41 Shaver 2100.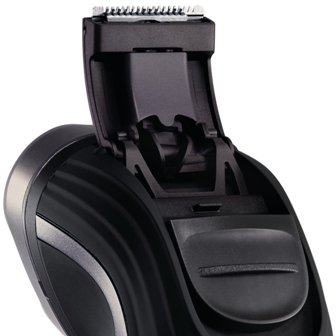 There is an on and off power button, and a green-colored charge LED light.
On the top side at the back of the electric shaver is a pop-up hair trimmer, so that you may trim your beard or mustache, It is additionally useful to trim the extra hairs at the back of your neck that are on the back of the neck. It pops back down once you are done.
It is simple to clean the Philips Norelco 6948XL/41 shaver 2100 and you will get a cleaning brush along with the razor that will help complete the cleaning process faster. This electric shaver can't be washed in the running tap water, and it won't be required either to wash it because shaving cream, gels, or shaving foams can not be used with this cordless electric razor.
Therefore you won't need to clean it with water in order to get rid of remains of shaving creams, foams or lotions from the shaver.
Some individuals will separate the head from the shaver, and then wash it with warm water, but the brush may also assist to get rid of any extra hair. However, it's surely not suggested to wash your whole razor with water, since it's not waterproof, and also you may not take a risk especially when the power cable is still inside the power outlet on your wall.
With the box you will get 1 Philips Norelco 2100 Electric Shaver, a brush to clean the razor, a protecting cap, and a charger with cable. If you buy your Philips Norelco 6948XL/41 shaver 2100 you will receive a free 45 days trial, to make sure that the electric razor is best for you.
It has a Philips's two years warranty that they commit to all their cordless electric shaver models. Philips Norelco 2100 Shaver measures around 3.5" by 6.8" by 9.6". Its weight is only 14.2 ounces, and it's quite light to hold in hand.
Final Views for Philips Norelco 6948xl/41 Shaver 2100
It's not possible for everyone to afford a costly electric razor. That is the reason why Philips has built a terrific rotary electric shaver for you at an affordable price range. You will be quite happy with the result of this electric razor. After trying it out, chances are high that you will be interested in a few of the other electric razors of higher models in the line.