GoodElectricShaver is reader-supported. When you buy through links on our site, we may earn an affiliate commission. Learn more
Last Updated on July 16, 2022 by Danish M
The Philips Norelco 9300 Shaver has a lot of advanced options that are not seen previously by many other manufacturers. The best option is the multi-directional shaving heads.
Every one of them is able to move in 8 different ways, Philips claims that it trims as much as twenty percent extra hairs.
Adding more to this the wet and dry electric shaving technology stated that it gives a thirty percent closer shave as compared to other brands of electric shavers and you've got an excellent grooming device in your hand.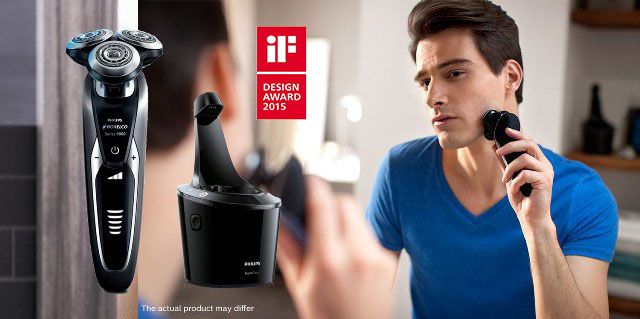 One other big plus point for the Philips Norelco Shaver 9300 is that you get to choose the speed of your electric razor. Different speeds are associated with the kind of beard that you've got.
Let's see it closely, if you select the Fast speed settings it will give you a maximum powered shave. In case you select the Medium option, you'll get a complete and proper shaving experience and the Slow speed settings gives you a skin-friendly shaving experience.
We have also written a thorough buying guide with the top list of latest shavers here – Best Electric Razors List.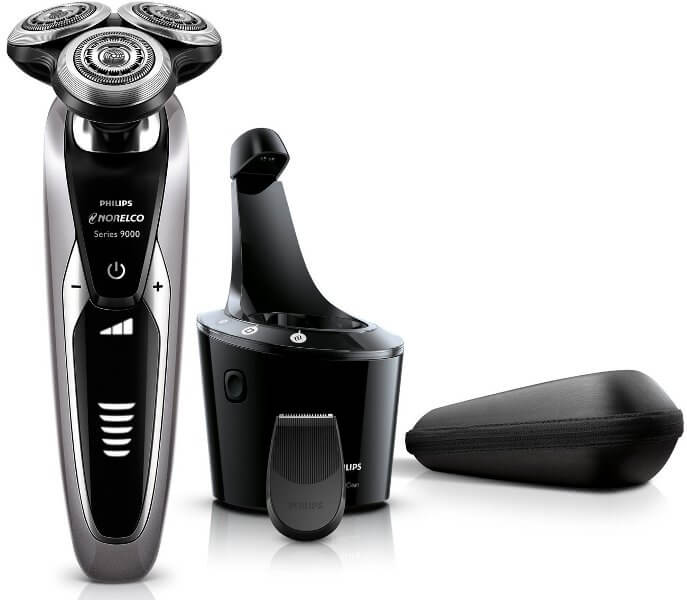 There are more great options in Philips Norelco Shaver 9300 (S9311/87), the SmartClean technology that gives you an easy and simple way to maintain your shaver and to clean, lubricate, drying and charging the rotary shaver is done all by just 1 simple process.

For individuals having delicate facial skin must not worry since Philips has included their AquaTec system in this Philips Shaver. This gives you an excellent shaving experience both with dry as well as a wet shave.

The Philips Norelco 9300 electric shaver series is actually the most latest and advanced product line the brand has made, and it has got the system that Phillips calls it Contour Detect system. In this system, the heads move in 8 different ways. This technique gives an extra precise following of the anatomy of your face which implies a better and more precise shaving experience.

The blades that are integrated inside the razor's head are comprised of the latest design, the V-Track Precision Blade which gets hair in the perfect position to cut the hair off with the right precision.

Philips Norelco 9300 Shaver is 100% waterproof and you can use it both wet or dry, you can use this razor while taking shower using shaving soap, foam, or gel. Both with wet or dry shave you will get closer shaving experience and the facial hair is cut easily and comfortably. The shaving heads work in eight directions and cut the hair more closely without causing any skin irritation.
The Philips Norelco 9300 Shaver series is an award-winning razor.
It received 2015 iF Design Award which is a globally recognized honor of excellence in design and design achievements. This package box includes a Philips Norelco Shaver 9300, the SmartClean technology system, a cartridge for cleaning purposes, a Smart Click trimmer, one power cable, and one protective pouch for traveling.
Reviewers for this product on the internet have rated it high for a lot of reasons. The option to easily clean, lubricate and charge the electric shaver is the most liked feature by individuals who simply need an electric razor that they just want a quick shave with and charge it later on.
The precision of the shave has been debated on the web but on the whole, customers really liked Philips Norelco Shaver 9300. It is a frequent debate that is associated more with the type of facial skin and sensitivity than the real functionality of the electric razor.
Final Views On Philips Norelco Shaver 9300
In general, if you are searching for the best electric shaver that you may use both wet or dry, you can shave with this electric razor while taking a shower. This can be a sensible choice as Philips Norelco will give you the best shaving experience. Philips Norelco has a wonderful name in the market and has produced a lot of excellent products.